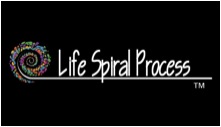 Kirsten Carpentier, MSW, Artist, Facilitator & Social Worker
Holistic Workshop to Honor & Celebrate Your Life's Patterns and Themes
Description: The Life Spiral Process (LSP) is the creation of a personal art piece focused on various points of choice, chance, challenge, and change in one's life, and provides a colorful and individualized celebration of the ongoing process of living. It is particularly suited for persons experiencing a "milestone" birthday (such as fifty) and who want to reflect on where they have been, patterns and themes within their lives, and how they want to move forward with the second half of their lives. The LSP's power is that it literally shows a whole life, holistically activating the right brain (non-verbal and intuitive), yet also using the left brain (verbal, linear and analytical) for some writing and discernment about how events unfolded. The LSP workshop group provides witnessing and support for the process. Participants will be asked to commit to attending all 6 sessions, and commit to time between sessions to complete some "homework tasks" (critical to completing the LSP). Between sessions the facilitator will provide you individualized questions and prompts to consider, some of which will be based on information given to the facilitator by each participant as they focus on different segments of time. The LSP is not therapy, but it does lead to clarity.
6 Sessions each building on each other (bi-weekly)
Tuesdays 6:00 PM-9:00 PM
9/11, 9/25, 10/9, 10/23, 11/6, 11/23/12
Limited to 5 participants
Cost: $997 per person
Price Includes: Art Materials, LSP Workbook & between-session individualized communication with Facilitator (price does not include photocopying images)
$50 non-refundable deposit due by 9/9/12 to register (refundable only if workshop is cancelled).
Early-bird discount of $50 if registration is received by 8/15/12. Refer a friend & each receive an additional $25 discount.
503-544-5160