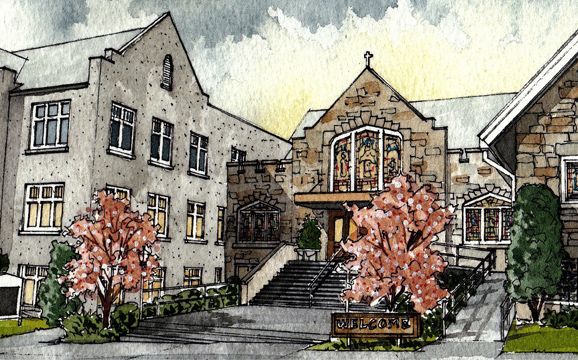 TaborSpace at Mount Tabor Presbyterian Church
VIA Artistica is located at TaborSpace in SE Portland, at the corner of 55th Ave and Belmont.
TaborSpace was founded by church members and a committed team of neighbors to help build community and offer this beautiful, historic building as a resource for the neighborhood. In the summer of 2009, the new coffee house welcomed the neighborhood to come in, enjoy gourmet coffee and local pastries and relax in the commons surrounded by stained glass and good company. What started as a dream is now a thriving grassroots community center sharing space with the members of the church.
Now neighbors and friends can enjoy artisan espresso in the beautiful Copeland Commons 6 days a week, served by expertly trained volunteer baristas, or savor soup and sandwiches hand made in the newly opened community kitchen.
Affordable room rates and a spirit of working together to make a great gathering space has allowed the creative energy of Portland to find a home at TaborSpace.
VIA Artistica is a Parish House Partner, a group of businesses sharing space in the former Sunday School wing of the church. We are thrilled to be contributing to the building of community that is at the heart of TaborSpace.
The beautiful drawing above is by Jim Longstreth at Photobrush Studio.