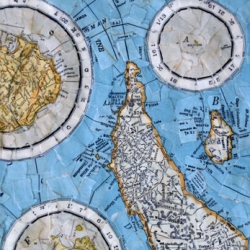 Art retreats are your chance to get away from it all for an afternoon and just play. The word VIA has so many meanings – road, street, way, route, path, avenue, course, passage, by way of, by means of, through. It seems fitting to start off our retreats by getting creative with maps!
We recently purchased a couple boxes of old road maps from an estate sale. We'll put these boxes out, along with a big stack of old National Geographics, and let you explore. Have fun cutting up the maps and magazines and then put them back together to create your collage. We invite you to bring your own collaging materials as well – the more bits and pieces the better!
Note that this is not a class. There will be no instruction, no lesson to learn. We'll just put out some materials, put on some quiet music, brew up some tea, and take time to do art together.
Inspirations: The featured image is from Francesca Berrini.
____________________________________________________
Additional Information
Experience Level: All levels
Minimum Students: 3  Maximum Students: 12
Materials Cost: Included in the Retreat Fee
Retreat Fee: $15
Total Cost: $15