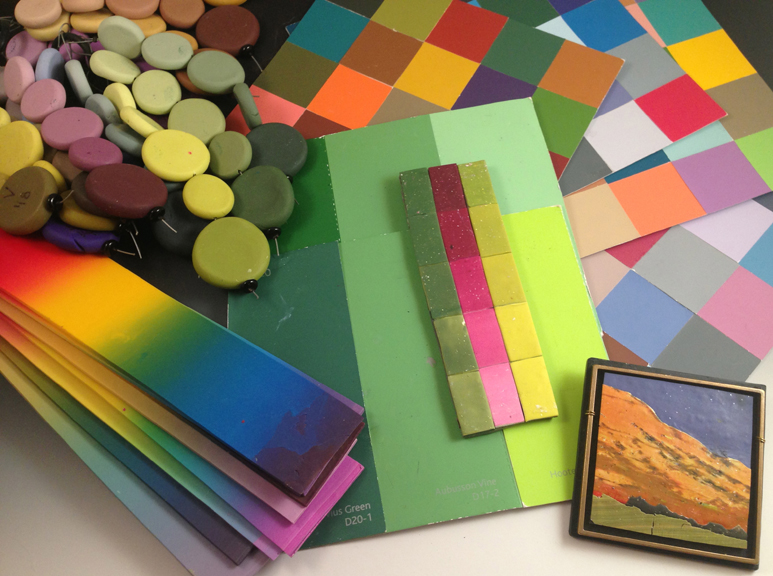 with Maggie Maggio
, Sep 3 – Sep 7, 2018, 9:30am – 5:30pm
A Five-Day Color Immersion
Hands-on Color Explorations Integrating the Science and Art of Color
For Artists and Designers in All Media
Color is an amazingly rich and complex subject. Every year brings new discoveries in the fields of physics, optics, neurology, chemistry, anthropology, psychology, and art.
How do we integrate this new knowledge with our personal practice of color? How do we apply modern technology to the traditional color curriculum? How do we re-think everything we know about color in our ever-changing world?
Walter Sargent who taught color theory at the University of Chicago in the early 1900's said, "Color is so much a matter of direct and immediate perception that any discussion of theory needs to be accompanied by experiments with the colors themselves." 
I invite you to join me for a week of hands-on color explorations using light, paint, polymer clay, computers and printers in a beautiful teaching studio overlooking the city of Portland, Oregon. Learn how to see color with new eyes and leave with a renewed appreciation for the wonder and complexity of color.
Day One
Defining Color 
Day Two
From 2D to 3D
Day Three
Combining Colors
Day Four
Color Appearance
Day Five
Practical Color
Lunches provided every day. Students bring a laptop or tablet. All other materials supplied.
Contact Maggie for Additional Information
maggiemaggio@gmail.com
Registration
Registration is closed for this event.