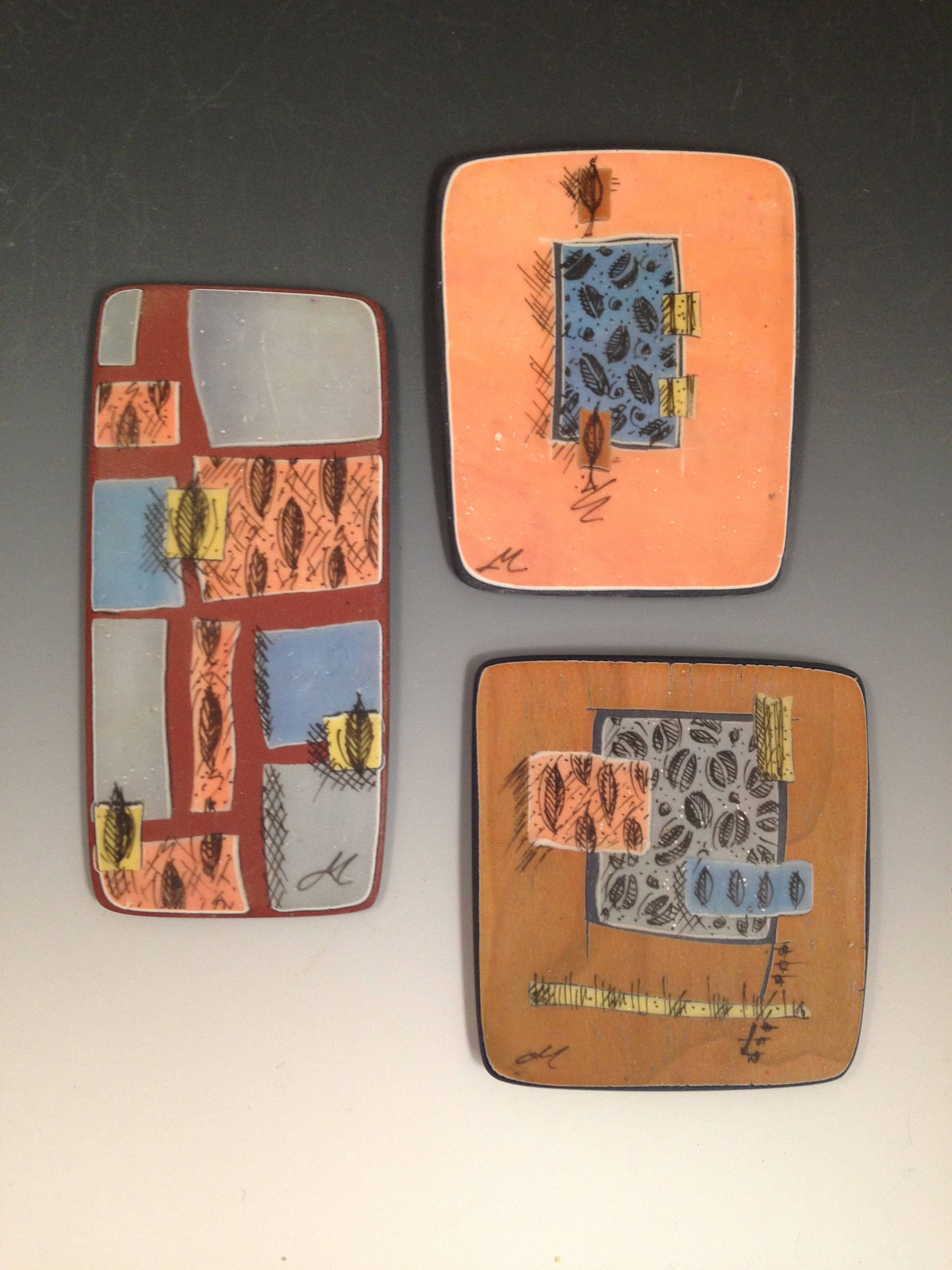 with Maggie Maggio
Saturday, Jan 17, 2015, 9:30am – 5:30pm
When I first started playing with the ColorWash technique, I sometimes ended up with large areas of color that felt much too bare. What did I do? I doodled away the empty spaces. Dots, lines, and patterns filled the voids and transformed a basic color-washed piece into unique and poetic jewelry.
The morning will start with mixing a natural palette of gorgeous earth colors using the Mixing Map as a guide. After making a collection of color washed sheets from your palette, you will learn how to make a ColorWashed brooch for your mark making in the afternoon.
After lunch, Maggie will present a short lesson on the history of pattern design and demonstrate a variety of mark making techniques. The rest of the first day will be spent developing your personal marking style using pen and paper before selecting a brooch to embellish with your own instinctive doodles.
Select one brooch to finish in class and take the rest of your pieces home to finish at your leisure.
This one-day version of the workshop is for students already familiar with Maggie's Mixing Map and the basics of the ColorWash technique.

 $10 kit fee includes handouts and group supplies. Polymer will be donated if possible.
Materials to Bring: Polymer clay – minimum of 6 oz of dark scrap or black clay.
Pasta machine, work surface and blade. Sketchbook. Sakura Micron pens in assorted sizes.
Level: Basic polymer clay experience required. Pre-requisite: Experience with the Maggio Mixing Map and with the ColorWash technique. Contact Maggie if you have questions.
Class Size: Maximum of 8 students.
Note: VIA Artistica is on the second floor of the Parish House. It is accessible by stairs only.
Registration
Registration is closed for this event.