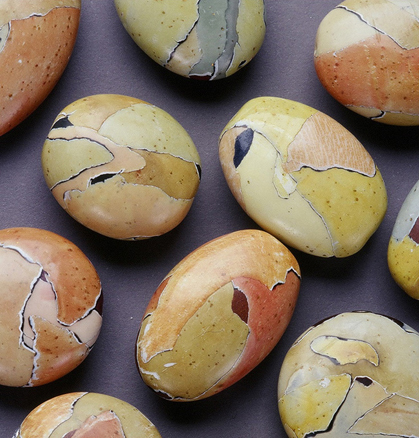 with Maggie Maggio
Sunday, Oct 14, 2012, 1:30pm – 5:00pm
Learn the basics of Maggie's "Watercolor" technique while making a few fabulous stone sized beads using a palette of natural colors.
Explore the beauty of neutral and near neutral colors as you make a few dozen very thin colorwashed sheets out of polymer clay to share with the group. Once we have enough color choices,  Maggie will show you some easy tricks for selecting coordinating colors and demonstrate how to make "torn paper" beads shaped liked river stones. Leave with a handful of beads to put into a bowl or string into a necklace at home.
____________________________________________________
Additional Information
Experience Level: All levels. No experience with polymer clay is necessary.
Minimum Students: 3  Maximum Students: 8
Materials Cost: $5 for polymer clay and shared supplies
Class Fee: $35
Total Cost: $40
Registration
Registration is closed for this event.