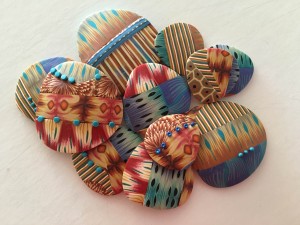 with Laurel Swetnam
Saturday, Sep 17, 2016, 9:30am – 4:00pm
This class will focus on combining simple polymer clay cane patterns into a cane collage.  The combined canes create eye catching veneers for functional objects like buttons or jewelry.  After creating a decorative sheet or two,  we will make a brooch, learning how to embed the pin back for durability and an attractive finish.  You'll have plenty of extra canes for other projects, so we'll talk about how to adhere veneers for bracelets or barrettes and how to make buttons. I'll bring findings for barrettes and  cutters for buttons.  I'll also have channel bracelets blanks to buy if you want to make a bangle.
The canes we make will be simple, so the class is appropriate for beginners.  Part of our time will be spent thinking about design – how to combine colors and patterns effectively.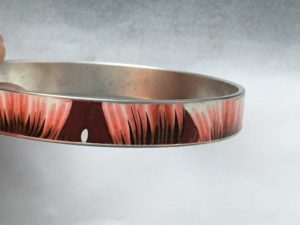 Registration
Registration is closed for this event.