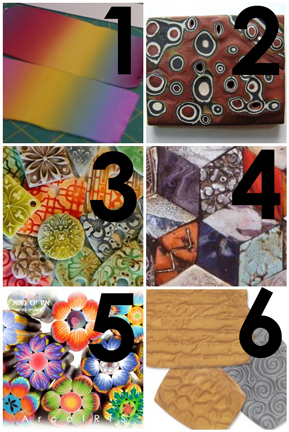 with Laurel Swetnam & Maggie Maggio
Wednesday Nights, Jan 23 – Mar 6, 2013, 6:30pm – 9:00pm
Polymer clay has come a long way since it started out as a children's art material. Now master artists all over the world are using polymer as their preferred medium and polymer art is emerging as the most exciting new form of expression in the 21st century. Join us for one class, a few classes, or for the whole series, if you are interested in learning more about this most versatile of all media!
Each week you will learn one of six different basic techniques in polymer clay and make a simple project to take home. While the project is curing we will demonstrate variations of the technique and show samples of the work of master artists using the featured technique around the world.
Week #1 January 23th   Color Blending: Learn how to mix colors and how to make two different kinds of blends – a step blend and a skinner blend.
Week #2  January 30th  Mokume Gane: Learn the polymer version of this ancient metal working technique.
Week #3 February 6th  Texturing: Learn a variety of texturing techniques including, stamping, embossing and incising.
Week #4 February 20th  Imitatives: Learn how to use polymer to mimic a variety of natural materials including jade and coral.
Week #5 February 27th  Millefiore: Learn how to make "canes" using techniques adapted from Italian glasswork.
Week #6  March 6th  Mica Shift: Learn how to use the metallic clays to create a surface that gleams with chatoyant effects.
Note: There is no class on February 13th – but you are welcome to join the Portland Polymer Arts Network meeting at TaborSpace that evening!
Registration
Registration is closed for this event.