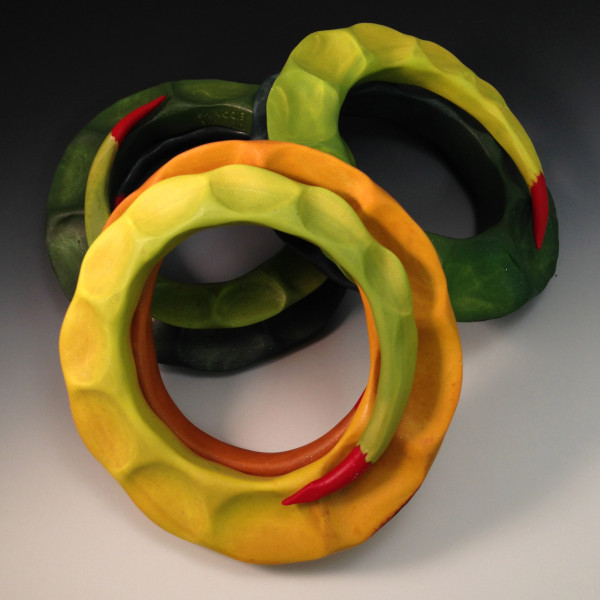 with Maggie Maggio
Saturday, Jul 25, 2015, 9:30am – 5:30pm
Everyone has a unique and instinctive sense of color.  When you combine your personal sense of color with your preferences for contrast and compositions you create a distinctive color voice.  Come spend a day learning how to tap into your color instincts!
We will start by making a color collage and then mix a matching palette using Maggie's Mixing Map. This easy-to-use color chart is designed to help you mix any color you want using just three primaries and white.
Once you have a collection of colors that match your collage you can play with different color combinations as you create a trio of color coordinated thorn bracelets using Maggie's signature ColorWash technique.
Come have fun with color and go home with some fun-ky bracelets!
$85 class fee + $10 kit fee includes all clay, handouts and group supplies.
Polymer clay will be provided by Polyform Products
Materials to Bring:
Pasta machine, work surface and blade.*
Magazine clippings – Trim away the text and white borders. Bring a quart size ziploc bag with at least 20 clipping cut out and ready to share with the class.
*Note: These are available in the VIA Classroom if you do not have your own.
Level: Basic polymer clay experience required. Contact Maggie if you have questions.
Class Length: One Day.  Seven hours of instruction.
Class Size: Minimum – 4 students. Maximum – 10 students.
Registration
Registration is closed for this event.