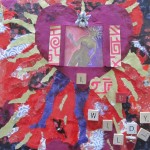 VIA Artistica: Exploring Your Artistic Path
VIA Artistica is a hands-on teaching studio and urban art retreat space where adults can rediscover art, energize their creativity, and enhance their well-being. Our goal is to create a space dedicated to artistic expression – a place that will allow people at all levels of artistic experience to expand their horizons by exploring new paths in the art world. We believe the practice of sharing art experiences with others can build community.
Calendar
The current calendar of Workshops are listed in the sidebar. You can see more information about each listing by clicking on the red title. We invite you to join us around the table!
VIA Partners - Kirsten Carpentier, Pam Jacobs, Laurel Swetnam and Maggie Maggio
VIA Programs – All programs take place in our second floor studio at TaborSpace.
TaborSpace – Neighborhood community gathering space located at Mt. Tabor Presbyterian Church, 5441 SE Belmont Avenue, Portland, Oregon